Campaign Services & Assistance
Our Mission
Our Mission is to serve our nation by restoring constitutional integrity in our leadership. We are dedicated to the vision of our Founders; government by our best and brightest citizens who rise to serve. We honor this basic American principle by reaching beyond establishment candidate incubators to identify viable candidates among grassroot citizens. We will inspire, empower and elevate them to replace those contributing to the failures of leadership America can no longer accept.
Government of the People, by the People, for the People is the blessing we refuse to surrender.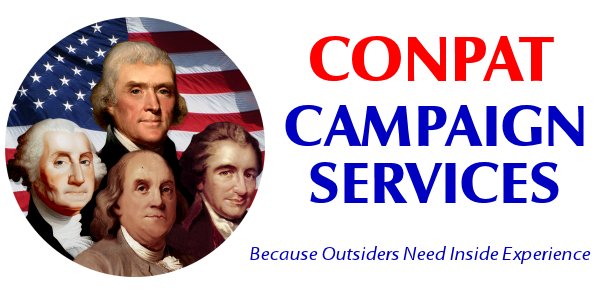 Constitutional Patriots are now proud to offer a full range of campaign services. We have committed to this step due to our determination to identify and assist outsider candidates not blessed by the crony corruption of the establishment process.
Establishment candidates step into well oiled machines with all parts in place. Outsiders are forced to go it alone, essentially reinventing the wheel and struggling to organize and fund a competitive campaign.
Conpats want these new outsiders winning elections. The best way to ensure that is by applying our decades of campaign experience to level the playing field. To that end we offer the following consulting and strategy services, from start to finish:
1. Start-up structure and management.
2. Platform and message development.
3 Volunteer and grassroots action development.
4. Design and targeted distribution of campaign related promotional materials.
5. Social media management.
6. News media outreach and press packages.
7. Writing services from slogan development to complete speech writing.
8. Voter/issue assessments.
9. Event planning and management.
10. Website development and management (including campaign email.)
11. Campaign art and graphics design.
12. Establishing campaign PACs.
13. Fundraiser training, management and services.
14. Opposition research and response management.
15. Strategy consulting and attack response.
16. Most importantly, help in ensuring constitutional integrity of the entire campaign message.
There are many components to a properly managed campaign. We have learned nearly all first time candidates underestimate the complexity and requirements. This leads to failure of most first campaigns and often the second. We can assist with any or all of these needs.
Effective campaign assistance requires input from sources who demonstrate a working knowledge of politics, trends and the public. At Constitutional Patriots we are proud to say we have proven to consistently produce the most acvurate record of political predictions available from any source, anywhere.
In early 2011 we were the first national organization to call for a Presidential run by Donald Trump. We predicted he would sweep primaries and win handily. The "experts" said we were crazy. We know politics and our Americans. That is how you win elections.
We only work with the best so our team of specialists must limit the number of campaigns we can assist in each season.
To discuss what your needs are and how we may help please contact us via email at info@conpats.com.
(Visited 73 times, 1 visits today)
Comments
comments